Planning to visit? Please plan ahead and respect and care for the New Forest
PUBLISHED ON: 2 JULY 2020

As lockdown measures are eased from 4 July, tourism body Go New Forest and the New Forest National Park Authority are calling on holidaymakers to plan ahead and book in advance so they can enjoy their stay safely and help protect the National Park.

They and other Forest organisations have launched a New Forest Code to help people care for the protected landscape and a series of top tips for a safe trip during Covid-19 restrictions.

Go New Forest Chief Executive Anthony Climpson said: 'Our tourism businesses are very pleased to welcome back our visitors and have been working hard to make sure everyone has a safe, enjoyable and peaceful visit.

'Returning visitors should be aware that the 10 Camping in the Forest campsites remain closed and all accommodation and visitor attractions need to be booked in advance.

'By following the new measures in place and respecting the local countryside, our visitors can safely enjoy a much-needed break and make special memories with their families.'

New Forest National Park Authority Chairman Oliver Crosthwaite-Eyre said: 'The vast majority of our visitors are respectful of the New Forest's precious landscape and are keen to protect the very thing they come to see and enjoy.

'We're working with local communities and businesses, Forest organisations and the emergency services to ensure local residents and visitors can have a safe and enjoyable summer while respecting and caring for the New Forest.'

If you're planning to visit the New Forest, here are Go New Forest's and the National Park Authority's top tips for a safe trip:

Before you set off:
Familiarise yourself with the New Forest Code – the National Park is a special place with its own code to supplement the Countryside Code to keep you and the New Forest safe.
Pre-book campsites and accommodation and attractions – in line with Government guidance, accommodation and attractions are only open to those who have pre-booked and some have timed ticketing to help manage numbers. Don't expect to turn up and find accommodation or camping places to stay the night. The 10 Camping in the Forest campsites are not opening this season. Wild camping is not allowed in the New Forest, nor overnight stays in car parks.
Some New Forest facilities remain closed.
BBQs or fires of any kind are not allowed anywhere on the Forest.
Look out for VisitEngland's 'We're Good to Go' mark so accommodation providers and visitor attractions can show people they're following guidance on social distancing, cleaning routines and risk assessments.
Plan your journey.
Check which visitor facilities are open.
When you arrive:
Respect the landscape and local communities – follow the New Forest Code so the fragile National Park stays beautiful, its rare wildlife is protected and visitors and residents alike can continue to enjoy it.
Follow social distancing guidance and hygiene measures – social distancing rules state you should keep a distance of 'one metre plus' from 4 July and wash hands regularly.
Support local businesses – buy New Forest Marque local produce and support our independent shops and eateries to give you a real taste of the Forest while supporting National Park communities.
Please check the National Park website at www.newforestnpa.gov.uk and plan ahead for accommodation and attractions by visiting www.thenewforest.co.uk.
– Ends –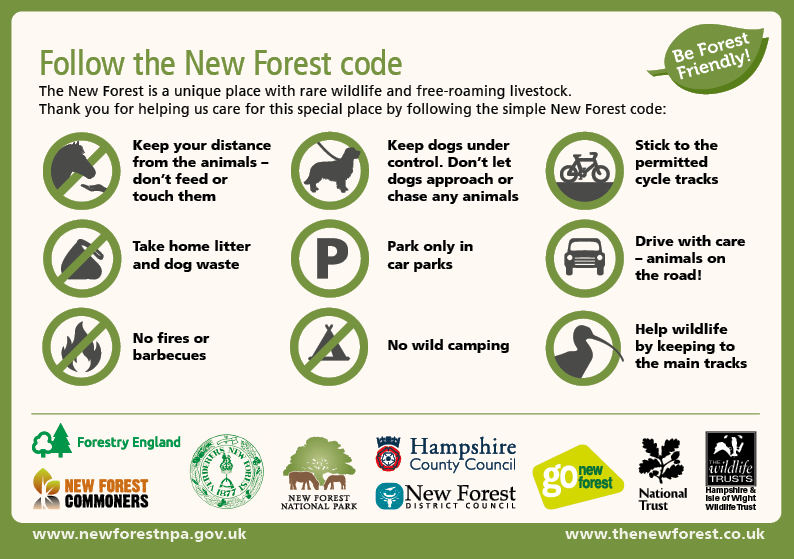 About the New Forest National Park Authority
Protect – Enjoy – Prosper
The New Forest National Park Authority's statutory purposes are to:
-Conserve and enhance the natural beauty, wildlife and cultural heritage of the Park – Protect.
-Promote opportunities for understanding and enjoyment of its special qualities – Enjoy.
We also have a duty to:
Seek to foster the social and economic well-being of local communities within the Park – Prosper.
The New Forest National Park was designated in March 2005. Its unique landscape has been shaped over the centuries by grazing ponies, cattle and pigs which roam free. Majestic woodlands, rare heathland and a spectacular coastline provide fabulous opportunities for quiet recreation, enjoyment and discovery.
Visit www.newforestnpa.gov.uk to find out more.
Maria Court, Communications Officer
New Forest National Park Authority
Tel: 01590 646650
Email: maria.court@newforestnpa.gov.uk