New Forest Artist in Residence finds 'Common Ground' with new exhibition
PUBLISHED ON: 9 MAY 2023

An art exhibition exploring relationships to nature through the culture of commons, land stewardship and folklore is to open in Sway.

The showcase 'Common Ground' is by Beccy Mccray, the second New Forest Artist in Residence – a programme launched in 2021 by the charity SPUD and part funded by the New Forest National Park Authority.

The exhibition will run from 9 May to 3 June at spudWORKS, in Sway, with the opening event and immersive walk on 13 May.

The work aims to amplify the collective wisdom and community knowledge of local land stewards from commoners, ecologists, and conservation volunteers to artists, Travellers, rangers and ramblers.

Exhibiting Artist in Residence, Beccy Mccray said: ''Common Ground' weaves together different narratives, creating a living dialogue.

'It asks, how do we democratise access to the English countryside? How do we reclaim our rights (and responsibilities) to the land? And how should these rights and responsibilities evolve over time?'

She added: 'I invite the audience to let their own actions cultivate fertile common ground.'

The materials used in the exhibition, including locally and sustainably sourced hay, oak, sheep's fleece, wild clay, charred hazel coppice and heather, give meaning to the ancient Forest Common Rights: pasture (grazing), mast (pannage), sheep, marl (clay), estover (wood for fuel) and turbary (peat). Pasture and mast still play a critical role in the biodiverse New Forest ecosystem today.

All materials, in their composting state, will be returned to the land after the exhibition, for example hay bales will become animal feed, the heather bales used for river restoration, the charred hazel to improve soil and the marl clay bricks into insect lodgings.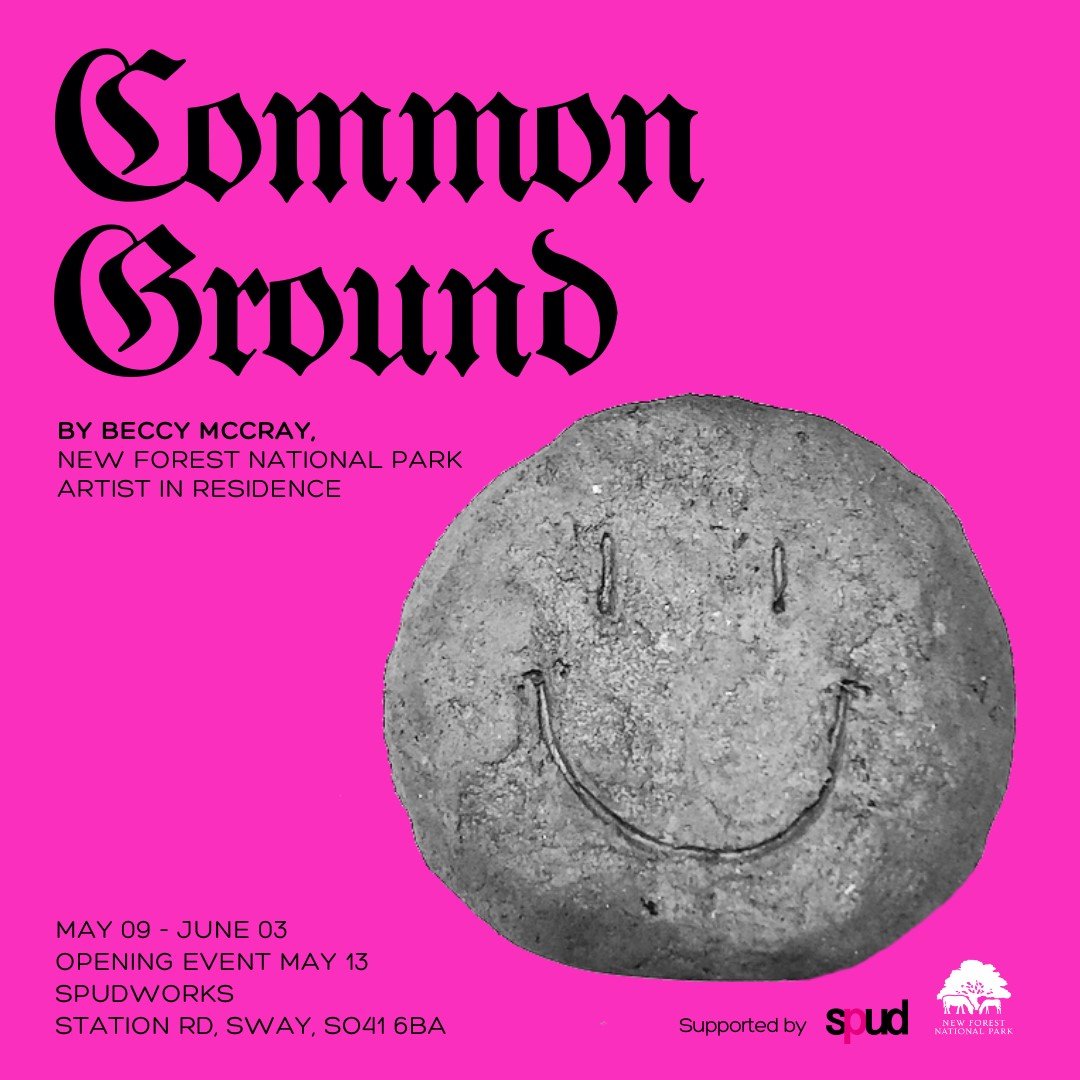 Beccy is the second New Forest Artist in Residence to exhibit. Following Marie Smith's 'We Belong Here' in October 2022. The third artist, Melanie Rose, is taking up her residency this month. You can find out more about the artists here.
New Forest NPA Access and Learning Manager, Jim Mitchell said: 'We really hope many people come along to the exhibition to engage with Beccy's art and the Artist in Residence programme more widely.
'Working with the artists provides us with new perspectives on the National Park and it's exciting to have them ask questions about how we can better work together to help the New Forest thrive.'
Director of SPUD, Mark Drury said: 'It's been a delight to have Beccy on residency at spudWORKS.
'Her boundless energy and enthusiasm has helped to connect her with a wide range of individuals across the New Forest, who might not necessarily consider their work through an artist's eyes. This has resulted in a non-typical, thought provoking and intriguing response around the idea of 'Common Ground''.
The opening event begins on 13 May at 1pm at spudWORKS, Station Road, Sway, with the walk starting at 3pm. No booking is required. More information can be found on the artist's website: https://beccymccray.com/ Or on Instagram: @beccy_mcraycray