New Chair for New Forest National Park Authority
PUBLISHED ON: 23 OCTOBER 2023

David Bence has been elected as the new Chair of the New Forest National Park Authority.

David has been an Authority member since January 2018 and was elected Chair at the Authority's AGM on 19 October.

Born in Somerset and now living in Hampshire, David has been visiting the New Forest since childhood with his family connection to the area going back to WW2.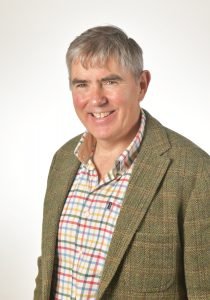 David joined the Authority after a full and varied 30-year career in the Royal Navy where he commanded at all levels and operated across the full spectrum of maritime and joint operations. Having worked in the defence industry and as a strategic consultant he now works as a freelance unexploded ordnance mitigation specialist with an interest in evolving that activity to minimise impacts on the environment. He has a love of the outdoors and nature and is passionate about conserving our natural flora and fauna and the rural way of life. A 'lockdown' sourdough baker he has recently taken up bee keeping and home-made charcuterie.
David will continue to be deputy chair of the Authority's Resources, Audit and Performance Committee, as well as representing the Authority on a number of national and regional organisations and remains Chair of the Forest Farming Group.
Victoria Mander was elected as Deputy Chair at the October Authority meeting and has been on the Board since September 2020.
Victoria is a wildlife conservationist who has worked on multiple projects in the UK and overseas and is a member of the Chartered Institute of Ecology and Environmental Management.
After working within the charitable sector for over 10 years, in 2018 Victoria founded Vision Wild, an organisation which supports charities and land managers to design, manage and evaluate nature conservation projects.
Victoria, from Cambridgeshire, grew up in the countryside and her first links with the New Forest came through her childhood New Forest pony. She's since always held a love of the National Park for its unique landscape.
Victoria also sits as a trustee for the Osprey Leadership Foundation, a charity committed to inspiring and empowering young conservation leaders. 
David and Victoria replace out-going Chair Prof Gavin Parker and Deputy Chair Patrick Heneghan who both remain as Board members. They were thanked for their hard work at the meeting.
The Authority's 22 members are the people with overall responsibility for making decisions. They are responsible for setting policies and priorities, ensuring efficient and effective use of resources and that money is well spent. It is their job to represent the interests of the National Park and to balance out any conflicting pressures.
David said: 'Our aim as Chair and Deputy Chair is to protect the New Forest and deliver nature recovery by continuing the good work of our predecessors Gavin and Patrick through ensuring that every decision that affects the Forest is made through the lens of our statutory purposes and working collaboratively and inclusively with communities and our partners and colleagues across the Forest.'
Members Mary Davies, Mel Kendal, Keith Mans, Dan Poole, Joe Reilly, Ann Sevier, Brice Stratford and Derek Tipp were also formally welcomed to the board.
Find out more details about the members and their biographies.
-ends-