The Snakecatcher
Brusher Mills (1840 – 1905) became a New Forest folk hero for his unusual occupation as a snake catcher.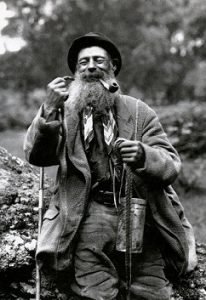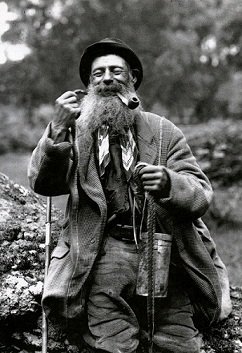 Named Henry and known as Harry, he grew up in the village of Emery Down and worked as a labourer.  In his forties he moved into an old charcoal burner's hut in woodlands near Sporelake Lawn, near Brockenhurst, and took up catching snakes for a living.
Armed with a forked stick and a sack, he set about ridding local properties of grass snakes and adders.  He sent some to London Zoo as food for the birds of prey and used others to make ointments to treat snake bites and other ailments.
It is thought he caught around 30,000 snakes during his 18 years as a snake catcher. These days he would have to choose a different profession because all New Forest reptiles have special protection under wildlife laws.
He is said to have been given the 'Brusher' nick-name for sweeping the cricket pitch at Balmer Lawn between innings whenever a match was played.  A simple man who loved the simple life, he lived contentedly in his mud hut apart from a spell in the workhouse after catching influenza.
He was a popular character in Brockenhurst, regularly enjoying a tipple at The Railway Inn (now named The Snakecatcher in his honour).  He also became a popular tourist attraction at the local fairs.
Brusher was apparently distraught when his hut was vandalised and he was left homeless.  Some say that his home was destroyed to prevent him using squatters' rights or ancient Forest law to claim the land.  He took up residence in an outbuilding at his favourite hostelry and died there not long afterwards.
You can see Brusher's grave in St Nicholas' Church, Brockenhurst, where villagers paid for a marble headstone to mark his final resting place.