Common Cause: Verderers' Hall
Lead Partner
What is it about?
The Forestry Commission will restore the Grade II* listed Verderers' Hall, the 1904 forest courtroom located adjacent to the Queen's House in Lyndhurst. The Hall is where the Verderers' public meetings are held and where commoners make presentments for the consideration of the Court on matters related to commoning in the New Forest. Enhancements to the Hall include updated digital display information as well as improvements to access and security to increase future access by the public.
The main objectives are to:
Restore the Verderers' Hall
Improve access to encourage more community groups and people to visit the Hall, resulting in an increased awareness and understanding of commoning by the public.
The restoration works have been completed, including:
Rebuilding a bay window
Restoring the stained glass
Repairing, replacing and repointing internal floor tiles
External re-pointing
Improving the access path and gate
Internal decoration
Installing audio and visual equipment
Upgrading mechanical controls and the heating system
Building a new interpretation cabinet.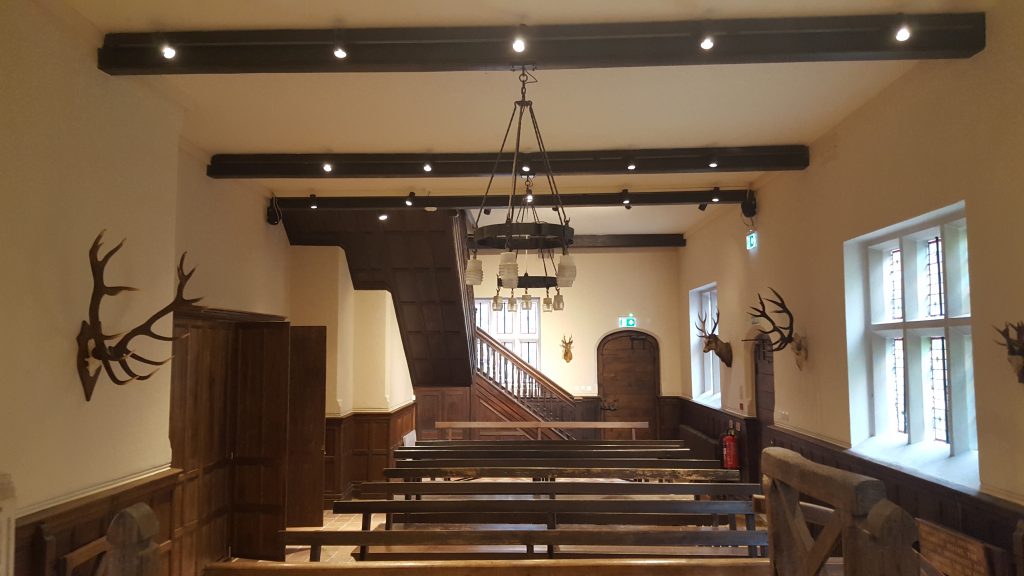 The interpretation element is still in progress and is expected to be completed during 2018.
Volunteering and training
Depending on demand, there may be scope for volunteers to staff the Verderers' Hall to help telling its role within the commoning story to the public during open sessions and at key events. If demand is sufficient to warrant staffing the Verderers' Hall open sessions with a volunteer, training will be provided to all volunteers taking up this duty. This would include training on specific information about the history of the building itself, the traditions of the Verderers' Court and commoning life in the New Forest, as well as the role of the Forestry Commission at Queen's House.
Visit the training and volunteering pages for information on specific roles within the Our Past, Our Future landscape partnership scheme.
Legacy
The improved access to this historic Hall will maximise educational opportunities and make it a very powerful tool for sharing the important role played in the New Forest by the commoners, Verderers and Agisters.
Contact details
Zoe Cox – Community Manager, The Forestry Commission
Tel: 0300 067 4601 email: zoe.cox@forestry.gsi.gov.uk