'Let nature be your teacher'
PUBLISHED ON: 21 APRIL 2020
Thousands of schoolchildren who have visited the New Forest National Park over the years have flourished thanks to its special qualities and calming atmosphere. It's largely thanks to education officer Sue Palma who we now wish a long and happy retirement.
Children who think the New Forest is 'just trees' clearly haven't spent any time in the company of Sue Palma – an education officer who's recently retired from the New Forest National Park Authority after nearly 12 years.

In this time Sue and her team have enabled more than 30,000 school children to come to the Forest and learn more about its precious habitats, wildlife, culture and heritage. She's also reached a further 55,000 though school assemblies.
'In the words of William Wordsworth, "Let nature be your teacher",' she said.
'If you're imaginative, you can use the Forest to teach every subject in the curriculum for children aged four to 14. It's a fantastic educational resource, and second to none.'
Having spent 32 years in teaching before joining the NPA, Sue knows first-hand how logistics and costs can often hinder children leaving their desks to learn in other environments. Yet NPA travel grants and funding from the Verderers of the New Forest Higher Level Stewardship scheme open doors to local children of all ages who may otherwise never set foot into this fascinating landscape.
'Our younger generation should understand about the National Park: what it is, why it's here and how it functions. It's crucial that they value it, because if they don't, they won't look after it,' said Sue.
'On top of that, make it an enjoyable experience and they'll want the National Park to be here for the next 1,000 years. This sort of education is a real investment for the future.'
But it's not all about what young people can give to the Forest. It's also what the Forest can give to the children.
'Being out in it can help people grow and shine,' explained Sue. 'We've welcomed underprivileged kids, many with real problems in their school or home life, but among the trees, even those who can be uncooperative in the classroom become calm. I'll always remember one boy with behavioural difficulties being as good as gold and declaring his time in the Forest as "The best day of my life''.'
'I've seen elective mutes start to talk, because in the Forest there's no such thing as a stupid question. And when we've asked questions, those 'failing' at school are often the first to answer.
'I've seen teachers moved to tears seeing their pupils basking in the freedom of the outdoors and growing in confidence.'
Sue said that sharing in people's delight has been both an honour and a great privilege as the NPA's education officer. She now hands the baton over to the rest of her 'wonderful' team as she steps into a retirement of gardening, walking and volunteering.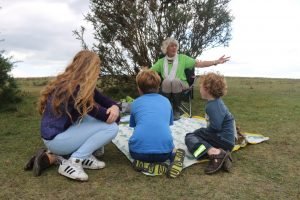 A typical school visit will involve a short walk taking in a variety of habitats including heathland, woodland, river and mire. Creative activities along the way incorporate important messages around commoning, dog ownership, litter and animal accidents.
'Then, at the end of each day, we ask the children to sit and absorb the quiet surroundings. It's important they get a chance to experience real tranquillity. At first, some find it really unnerving as they aren't used to silence. But then they begin to love it.
'That's when I know the New Forest has worked its magic on them.'
If you're looking to learn more about the New Forest National Park, contact our education team who can support you. Please email education@newforestnpa.gov.uk