Beccy Mccray
PUBLISHED ON: 10 OCTOBER 2022

As we welcome the change in seasons, we welcome this year's second National Park Artist in Residence.

Beccy Mccray is an interdisciplinary artist who looks to engage people with her work and break down boundaries between art, activism and everyday life. She aims to inspire change at grass roots level, creating a positive and sustainable vision of the future.

We asked Beccy some questions about her work and why it relates to us here in the New Forest…

Can you give us a brief overview of how your practice has developed and led you to the work you produce today?

My grandad used to take me for walks around the forest when I was a little girl – I always remember the 'fairy mushrooms', the woods and the ponies, it was such a magical place to me. My dad always had an allotment too, so nature played an important role in my childhood. At university I studied graphic design/moving image, it was a very experimental course, really more like Fine Art. I loved how moving image required active participation and meant that I could try out lots of different techniques and approaches, I also loved learning all about the related visual culture and theory.

A few years after graduating, I became interested in the climate movement and realised that my purpose in life is to use my creativity and my energy as a force for good. I set up my collective, Crafternoon Tea Club, and began to create solo work too. It all came together as what I now call 'art-activism'. Using an interdisciplinary approach, I make playful and socially-engaged work that responds creatively to social and environmental issues.

My aim is to break down boundaries between art, activism and everyday life, and ultimately inspire positive change at grass roots level, creating a positive picture of a more sustainable, enjoyable and socially just future.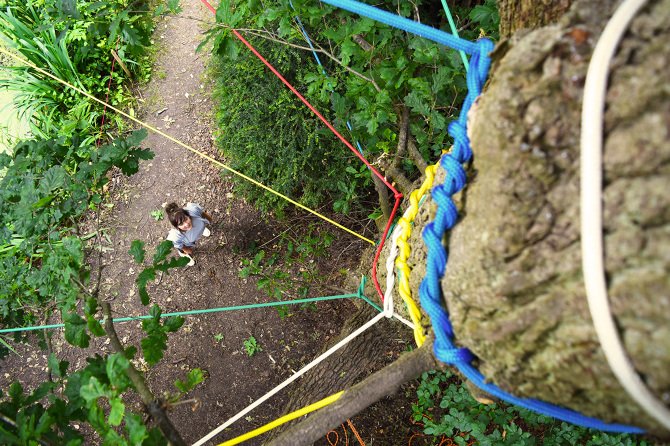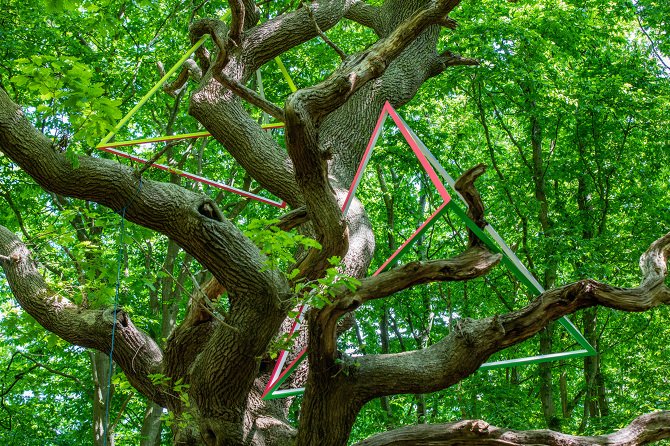 Initially, what aspects of the New Forest do you envision influencing your work the most?
I am very interested in exploring the various carbon sinks across the National Park. I want to look at the lesser known ones like hedgerows, salt marshes and heathland; how this relates to habitats, and is all part of the unique ecosystem sustained by commoning and the very special stewardship of the land that is so intrinsic to the New Forest.
What role do you think the arts can have in tackling the nature and climate emergency?
Arts, culture and creativity are very much part of our climate crisis tool kit. We need an emotional, spiritual and cultural shift – it's not about convincing people anymore, it's about feeling and making ecology accessible. Creativity and the arts helps us to imagine a different world to the one we're living in. Art translates and experiments with what may be possible; it diffuses fear and changes perspectives, and it asks people to use their own will to make change on an individual, local and systemic level.
Who or what would you say are your biggest influences?
Right now, I'd say that learning from nature is the biggest influence on my work.
How do you like to connect with nature and the great outdoors?
I have an allotment and that keeps me very connected to nature and the seasons. This year we're trying to celebrate as many full moons as possible by doing something outdoors at night. I think being in sync with or celebrating natural cycles like the moon and the seasons is a way that we can all connect with nature and each other. I also love woodland walks at any time of year!
How do you begin a day in the studio?
With a tidy up and a coffee! Then sometimes a short meditation.
What tools and materials will you be sure to pack for your studio space?
Some different sized sketch pads, fine liner pens, sharpies, charcoal, my phone for a camera and microphone, laptop, wellies and comfy clothes (layers!). As my residency draws closer I'll start to think more about my artwork – so I'll bring some materials too – possibly fabrics, yarn, tape, a speaker, a microphone, coloured chalks…
To stay updated throughout Beccy's residency, follow us on social media and sign up to our e-newsletter.
Beccy Mccray Socials:
www.beccymccray.com
@beccy_mcraycray