Historic trail: Lepe to Fawley
This trail passes Exbury, The Cadland Estate and on to Fawley. It covers areas used extensively during WW2 and for D-Day preparations. There are several remains of WW2 military installations throughout. There are also sites of old farmsteads, a Roman road, brickworks, mills and gravel pits, as well as ancient woodlands and Sites of Special Scientific Interest (SSSI). The paths are thought to have been used for a variety of activities, including smuggling.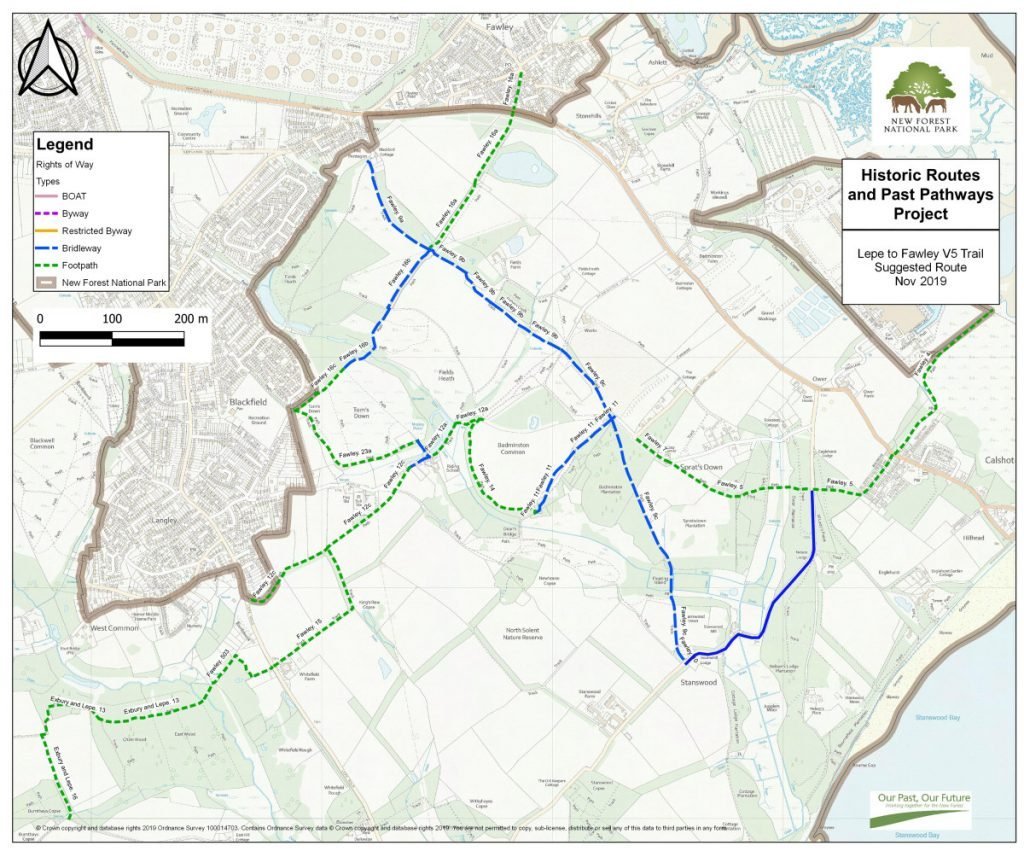 The Lepe to Fawley route is a preview of one of five new self-guided walks we are developing along existing rights of way in and around the New Forest National Park. All landowners have and are being contacted. However, if you're a landowner of one or more of these rights of way but have not heard from us yet, please get in touch.
NPA Archaeologist Gareth Owen talks us through the route and its rich history, revealed with the help of volunteers.
The main trail is to the east of the Dark Water river in the Cadland Estate. Some of its routes can be seen on Thomas Milne's map of 1791. The central trail has several connecting branches towards Exbury into the Exbury Estate as well as to Langley, Blackfield, Fawley and Calshot.
Originally monastic land, the Cadland Estate, has changed hands only a few times  . The estate was once larger but is now smaller in size following two major sales, the first in 1895 after a long agricultural depression. In 1947 a third of the estate north of Fawley was sold under compulsory purchase for the oil refinery. This second sale saw the destruction of the mansion house, its Capability Brown Park, model farm and 40 estate cottages.
The trail covers areas extensively used during WW2 and for D-Day preparation and activity. Badminston Common includes the site of the holding tank area for Operation PLUTO (Pipe Line Under The Ocean), used during WW2 for fuel supplies. Near Mopley Pond are the remains of the pump house used in the PLUTO operation. There are the remains of other WWII structures around the Badminston Common area, thought to be air-raid shelters.
The trail includes areas of ancient woodland at Chale Wood on path 13 as well as Calshot Marshes Local Nature Reserve and Site of Special Scientific Interest (SSSI) on path 4, which is nationally important for overwintering waders and wildfowl.
South of path 503 in Whitefield Rough is the site of Whitefield Brickworks, including brick kiln and claypits mentioned in the 1841 census and first seen on the OS maps of 1871. The bricks are said to have been used around Exbury and Beaulieu.
Mills are indicated at Mopley (Mapley Mill) and Stanswood on Taylor's map of 1759. Ower Mill is shown on Milne's Hampshire map of 1791 (paths 12a and 9c) as well as an iron mill.
From the 1800s there are stories of smuggling in this region with the Mopley area being used for storage of contraband. It is suggested in 'Waterside, a Pictorial Past' by Fred Murphy, that smuggling was rife in the area by 1820. Recorded on the Fawley Enclosure map of 1815 is Lazy Town. This area gained its name due to the residents sleeping all day as they went smuggling at night.
Sprat's Down (Spratsdown/Sprattsdown) by path 7 and 5 arose to house the families of the workers (navvies) that were brought in to build the naval air station on Calshot Spit during the early 1900s.
Building started in approximately 1906 and it took six years to complete the hangers and site. It was commissioned on 29 March 1913. In April 1915 the Royal Naval Air Service and the Royal Flying Corp were amalgamated to form the RAF and it remained as a base until 1961.
The original houses built at Sprat's Down were no more than wooden shacks totalling over 40. There was a small shop that only closed in the late 1970s. One of the conditions imposed on the builders and owners was that when the families moved out, the house had to be demolished and the ground returned to farmland. There are only six houses left now that have survived and were able to be rebuilt.
Footpaths Exbury and Lepe:13 and Fawley:503 meet at a crossing of the Dark Water river. South of here there used to be a water mill (iron mill on Taylors map of 1759) which was demolished during the two world wars. The original stepping stones across the Dark Water river were removed but reinstated in recent years. These are thought to be only stepping stone water crossing on a right of way in Hampshire.
Near the junction of Green Lane and Mopley road there was a hamlet known as Woodington shown on OS maps 1940 (but not visible now). In 1843 a carrier operated between Woodington, Fawley and Calshot.
Badminston Common was used for common grazing land, shown on Milne's map of 1791. The common and surrounding areas are dotted with old gravel pits.
Fawley is mentioned in the Domesday Book. The present church, on path 16a, was begun in 1170 to replace previous buildings which had been there since 971. Its original dedication is said to have been to St Nicholas, the patron saint of seafarers and a late Saxon window can be seen. Fawley church would have been the last church seen by sailors as they left Southampton Water.
Work started on Fawley refinery in 1921 and was extended between 1948 and 1951, on both occasions with land being bought from the Cadland Estate. The branch railway from Totton arrived in 1925 and closed in 1967.
Path 4 passes the site of Calshot salterns, shown on Taylor's map of 1759. There is a view across to Calshot Castle, built by Henry VIII as part of the Solent defences.
Given the variety of activity in the area it is likely that paths were used by people walking to church, to mills, quarries, common grazing land, farms, the brickworks at Whitefield and as smuggling routes.
Get involved
If you'd like to contribute memories or stories to this trail, get in touch with Gareth Owen on 01590 646652 or Gareth.Owen@newforestnpa.gov.uk.
The research for this route has been done as part of the Historic Routes and Past Pathways project, which is part of the National Lottery Heritage Funded Our Past, Our Future scheme.