Pedalling the Parks
PUBLISHED ON: 10 APRIL 2019

Peak District National Park manager tackles epic 1600-mile cycle ride across the UK's most treasured landscapes

Intrepid Lorna Fisher is gearing up for an epic 1,600-mile cycle ride – taking in all 15 UK national parks in just two weeks.

Lorna – a Peak District National Park engagement manager who leads a team of rangers – begins her challenge in the Cairngorms on 13 April.

She will pedal through national parks in Scotland, Wales and England, ending in the Broads National Park on 27 April. She will cycle through the New Forest on 25 April.

The punishing route is about twice the distance as cycling from Lands End to John O'Groats.

Lorna's marathon bike ride coincides with Discover National Parks Fortnight (6 – 21 April), reflecting on the 70th anniversary of legislation which ultimately led to the Peak District becoming the UK's original national park in 1951.

Throughout her challenge, Lorna will be raising funds for #70kfor70 – the first campaign of the newly-launched Peak District National Park Foundation.

During her cycle challenge, Lorna hopes to meet people from as many local communities as possible, inspiring people about the UK's National Parks – which attract millions of local and international visitors each year.

She also plans to raise awareness of 2019 as the 'Year of Green Action', urging people to say #iWill to new challenges that help contribute to sustainable lifestyles.

Lorna has been a keen cyclist for seven years, but this will be by far her greatest challenge.

She said: 'I'm an explorer at heart who loves being outside. I am at my happiest when walking in the hills, whizzing along country lanes, simply exploring.

'I've previously taken part in 400km and 600km audaxes (time-limited distance rides), but at around 2,500km over two weeks this will be like nothing else I've attempted before.

'In my role at the Peak District National Park I'm incredibly lucky to have the opportunity to inspire and engage others, sharing my passion for the natural world.

'There'll certainly be plenty of time to tune in to the landscapes and meet some of those who live and work in our national parks throughout the challenge. Seeing the world from two wheels always brings a new perspective.'

Lorna will be supported along the way by Clif Bar – supplier of nutritional foods for athletes, and the YHA providing a place for Lorna to rest up between stages.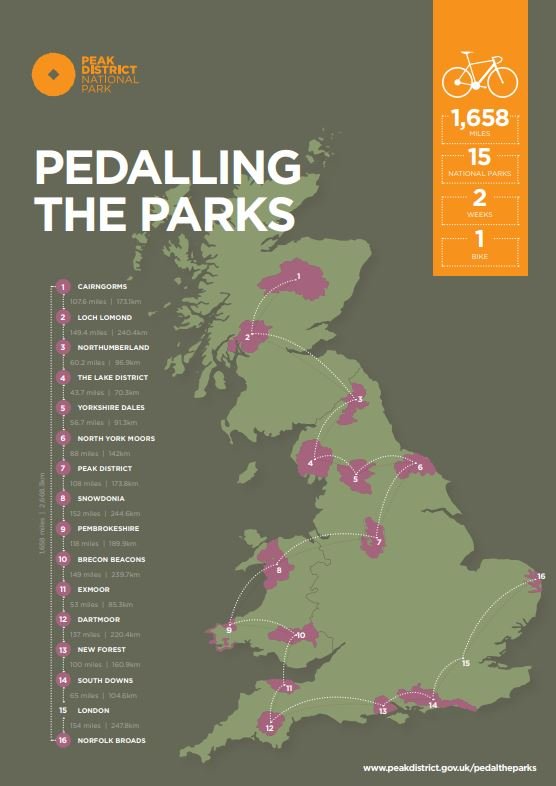 A full map of Lorna's route can be found at www.peakdistrict.gov.uk/pedallingtheparks.
You can follow Lorna's progress on social media on @peakdistrict on Twitter and Facebook, and with the hashtag #PedaltheParks.
-ends-
Editors Notes
1. Interviews can be arranged via the communications team at Peak District National Park Authority (01629 816200).
2. Lorna will be in the following locations throughout April:
13 April Cairngorms NP (START)
14 April Loch Lomond NP
15 April Northumberland NP
16 April Lake District NP
17 April Yorkshire Dales NP
18 April North York Moors NP
19 April Peak District NP
20 April Snowdonia NP
21 April Pembrokeshire NP
22 April Brecon Beacons NP
23 April Exmoor NP
24 April Dartmoor NP
25 April New Forest NP
26 April South Downs NP
27 April London NP
27 April The Broads NP (FINISH)
3. 2019 is the 70th anniversary of the National Parks and Access to the Countryside Act 1949, which set out to protect landscapes and make the countryside more accessible to people, paving the way for the creation of UK National Parks.
4. More information about the Peak District National Park Foundation is on the website www.peakdistrictfoundation.org.uk.