New members sought for New Forest National Park Authority
PUBLISHED ON: 18 APRIL 2019

Would you like to play a leading role in conserving and enhancing the natural beauty and special qualities of one of our most treasured landscapes?

Defra is recruiting for two new Secretary of State members for the New Forest National Park, with a four-year term.

Secretary of State members have an important role to play overseeing the management of this special landscape. They provide leadership and strategic input, at a non-executive level, to the National Park Authority which works to ensure the delivery of benefits to the national and local community.

The Authority has 22 members with overall responsibility for making decisions. There are 12 members appointed by the county, district and borough councils with land within the National Park. Six are appointed by the Secretary of State for Environment, Food and Rural Affairs. Four are selected from parish councils within the National Park.

Authority members set policies and priorities, ensure efficient and effective use of resources, and make sure that money is well spent. It is their job to represent the interests of the National Park and to balance out any conflicting pressures.

The current vacancies in the New Forest were previously held by Phil Marshall and Marian Spain.

Lord Gardiner of Kimble, Parliamentary Under Secretary of State for Rural Affairs and Biosecurity, announced he was recruiting members for a number of National Parks and Areas of Outstanding Natural Beauty (AONBs).

He said: 'I am looking for a wide range of passionate and committed individuals who want to help shape the strategic direction of our National Park Authorities and AONB Conservation Boards. As a Secretary of State appointed member, you will have the opportunity to help conserve and enhance our most treasured landscapes now and for future generations.

'I welcome applications from people who have a clear understanding of land management, rural communities, as well as protection and enhancement of the environment.'

Contact: If you have any questions about the appointments process or would like an informal discussion about the role please contact Alex Reid, Defra Public Appointments Team, on 020 802 67248; publicappts@defra.gsi.gov.uk.

These positions are non-salaried but certain allowances are available. The time commitment varies between one to four days per month.

For further information about this role and to apply, please visit the Centre for Public Appointments: https://publicappointments.cabinetoffice.gov.uk/

Closing date for applications: Noon on 13 May 2019.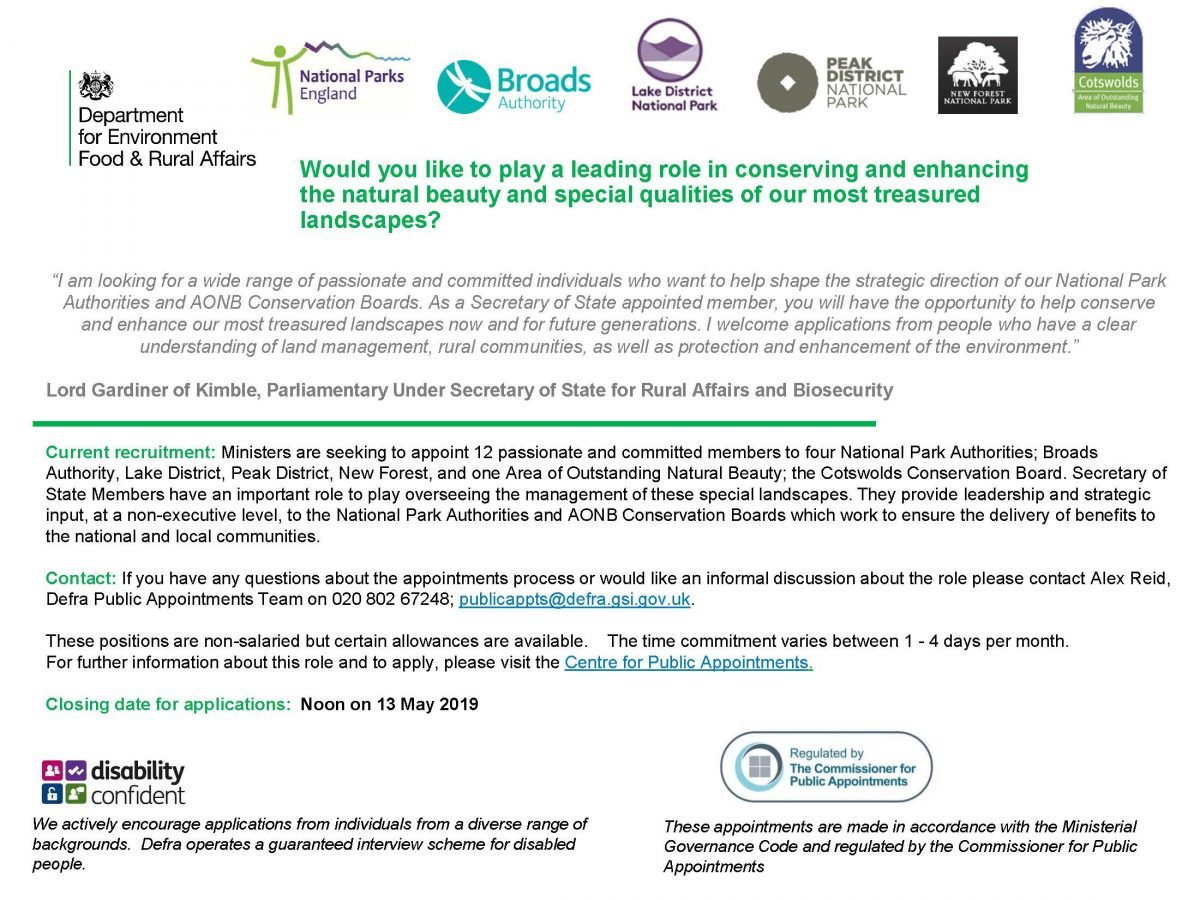 -ends-
About the New Forest National Park Authority
Protect – Enjoy – Prosper
The New Forest National Park Authority's statutory purposes are to:
Conserve and enhance the natural beauty, wildlife and cultural heritage of the Park – Protect.
Promote opportunities for understanding and enjoyment of its special qualities – Enjoy.
We also have a duty to:
Seek to foster the social and economic well-being of local communities within the Park – Prosper.
The New Forest National Park was designated in March 2005. Its unique landscape has been shaped over the centuries by grazing ponies, cattle and pigs which roam free. Majestic woodlands, rare heathland and a spectacular coastline provide fabulous opportunities for quiet recreation, enjoyment and discovery.
Visit www.newforestnpa.gov.uk to find out more.
Beki Mole, Communications Assistant
New Forest National Park Authority
Tel: 01590 646639
Email: beki.mole@newforestnpa.gov.uk