Hundreds discover art in New Forest National Park
PUBLISHED ON: 6 JULY 2016

Encouraging visitors and residents to engage in the Forest's rich creative community and explore new parts of the Forest, the Festival hosted a diverse range of events in over 20 locations. Some of the more unusual venues included a treehouse, a pub and a castle.

Led by the New Forest National Park Authority with local creative organisations, the Festival celebrates the Forest's landscape and culture through a variety of art forms.

Events this year included an outdoor performance of Shakespeare's A Midsummer Night's Dream, workshops, a series of concerts by local bands and a diverse range of exhibitions.
Artist Jacqueline Rolls creating a landart lizard at Bolderwood Arboretum.
Many of the events within the Festival were free or discounted thanks to Heritage Lottery Funding, making them accessible for families of all ages, children, adults with learning disabilities and the more mature generation.
Sway-based art therapy charity hArt ran a movement therapy programme and a series of relaxation workshops during the Festival, with many of the sessions being oversubscribed. hArt also delivered a hugely successful movement therapy workshop at Ashley Junior School on 15 June, with the school reporting that it 'Gave the children the chance to do something they have never tried before and express themselves in different ways.'
Annie Jeffery, Chair of Trustees at hArt, said: 'Over five days, hArt offered the opportunity to experience the skills of professional creative therapists and artists to a variety of groups. We have loved taking part in the Arts Festival, showcasing the abilities of highly qualified and experienced professionals, and are grateful to all those who attended.'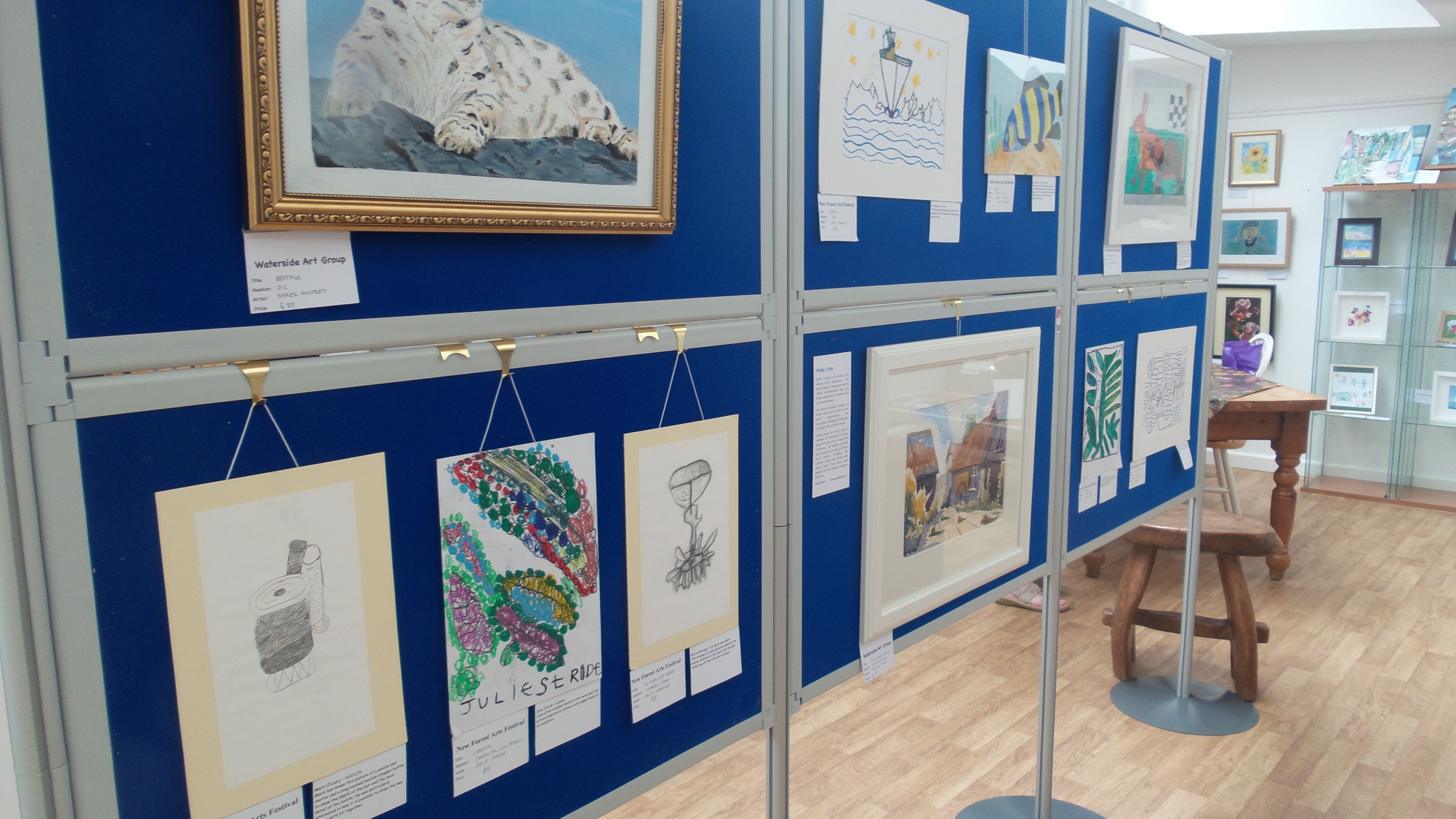 An exhibition of the artwork created at Furzey Gardens during the Festival.
The Festival also featured exhibitions, including a special exhibition about New Forest toymaker Frank Whittington at the New Forest Centre. The afternoon featured displays of toys and showings of Florence Kennard's film 'The Forest Toys'.
The New Forest Centre Manager Hilary Marshall said: 'As a cultural hub for the New Forest, the New Forest Centre welcomed the opportunity to be part of the inaugural New Forest Arts Festival. It's been great to be part of such a vibrant and diverse programme of events and activities and we look forward to helping to grow the Festival in years to come.'
Sharon Lawless, CEO and Creative Producer at Forest Forge Theatre, said: 'We are delighted to have been part of the New Forest Arts Festival. It's wonderful to see how much creative talent there is in the region and the festival is a fantastic opportunity to showcase and celebrate local artists. We're very much looking forward to being involved next year.'
Filmaker Manuel hinge presents 'Forest Films' for the Arts Festival.
The Festival drew to a close with a Showcase Day at Lyndhurst Community Centre, featuring works that had been produced throughout the Festival and artists that had taken part.
Organisers are already looking how the Festival can evolve next year. To express interest in sponsoring the Festival please contact Hilary Makin on 01590 646608 or hilary.makin@newforestnpa.gov.uk.
-ends-
Notes to Photo Editor:
A selection of toys created by New Forest toymaker Frank Whittington in the special exhibition at the New Forest Centre.
Notes to Editor:
About the New Forest Arts Festival
The New Forest Arts Festival is one of many projects within a Heritage Lottery Fund scheme called Our Past Our Future, led by the New Forest National Park Authority with 10 key partners.
Over the next four years it will help protect and enhance the landscape, develop Forest skills and encourage residents and visitors to discover and safeguard the Forest's fascinating heritage. More details at www.newforestnpa.gov.uk/landscapepartnership.
This is the first year of the Arts Festival, with around 40 events inviting people to celebrate the New Forest National Park's landscape, culture and creative community. Many of the events are in unusual venues and there are many opportunities to take part.
See www.newforestnpa.gov.uk/artsfestival.
About the New Forest National Park Authority
Protect – Enjoy – Prosper
The New Forest National Park Authority's statutory purposes are to:
Conserve and enhance the natural beauty, wildlife and cultural heritage of the Park — Protect.
Promote opportunities for understanding and enjoyment of its special qualities — Enjoy.
We also have a duty to:
Seek to foster the social and economic well-being of local communities within the Park — Prosper.
The New Forest National Park was designated in March 2005. Its unique landscape has been shaped over the centuries by grazing ponies, cattle and pigs which roam free. Majestic woodlands, rare heathland and a spectacular coastline provide fabulous opportunities for quiet recreation, enjoyment and discovery.
Visit www.newforestnpa.gov.uk to find out more.
Media Contact:
Beki Mole, Communications Assistant, New Forest National Park Authority
Tel: 01590 646639