Your guide to the new National Park website
PUBLISHED ON: 2 MAY 2018

If you're a regular user of our website you'll (hopefully!) have noticed some big changes in the last few weeks.

With our old website software coming to the end of its life, we took the decision last year to build a new site that is easier to use and better showcases the beauty of the New Forest National Park.

To give you a flavour of the scale of the task, here are a few statistics:
800 pages to check, rewrite or delete
10,000 documents and meeting notes to migrate
1,000 hyperlinks to repoint
600 photos to resize
You can see why it took several months of work for us to get to the point where we could launch the new website on 11 April.
Watch the video below (sound on) for a narrated click through of some of the site's features or read on…
We would love to have your feedback at communications@newforestnpa.gov.uk.
The Forest's online home
Our new homepage is designed to use the beauty of the Forest to wow people and inspire them to care for this special place. A large image and introductory video do this visually, followed by interesting news articles and blogs to keep people informed. On the right hand side you'll see the 'Explore by Map' triangle – click on this and choose different filters to see walking routes, things to do and information points.
Then hover over the mega menu or get scrolling down the homepage to find the sections you're looking for.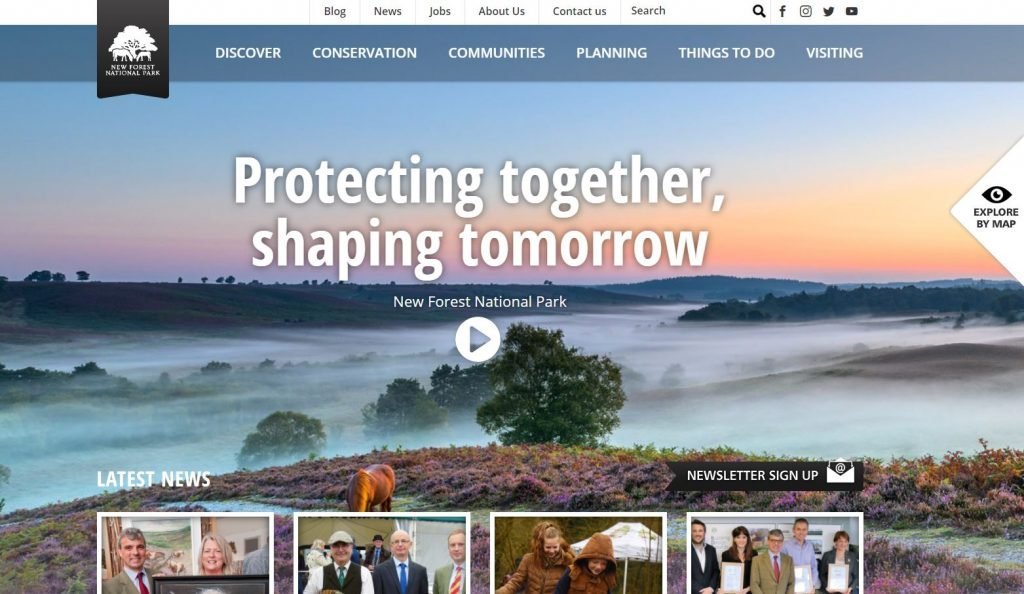 What's in a name?
We gave the names of our categories much thought, as we wanted to make sure you knew where to find things and that they reflected our priorities for the National Park. We came up with:
Discover: Your first stop for everything you need to know about the wildlife, landscape and heritage of the New Forest.
Conservation: Our work to keep the Forest special.
Communities: How we work with young people and help local communities flourish
Planning: The place to go to submit or view applications and all other planning matters
Things to do: Brought up to this top level menu as we know how popular it is with website users
Visiting: information to help visitors care for the New Forest when they visit.
What do you think?
Planning restructured
Our website is the main way people submit or view planning applications in the National Park. So we were determined to make the process easier and quicker by reordering the planning area according to which sections are most well used.
If you've tried the planning area since the changes please let us know what you think. Is it easy to use? Well structured? All suggestions welcome.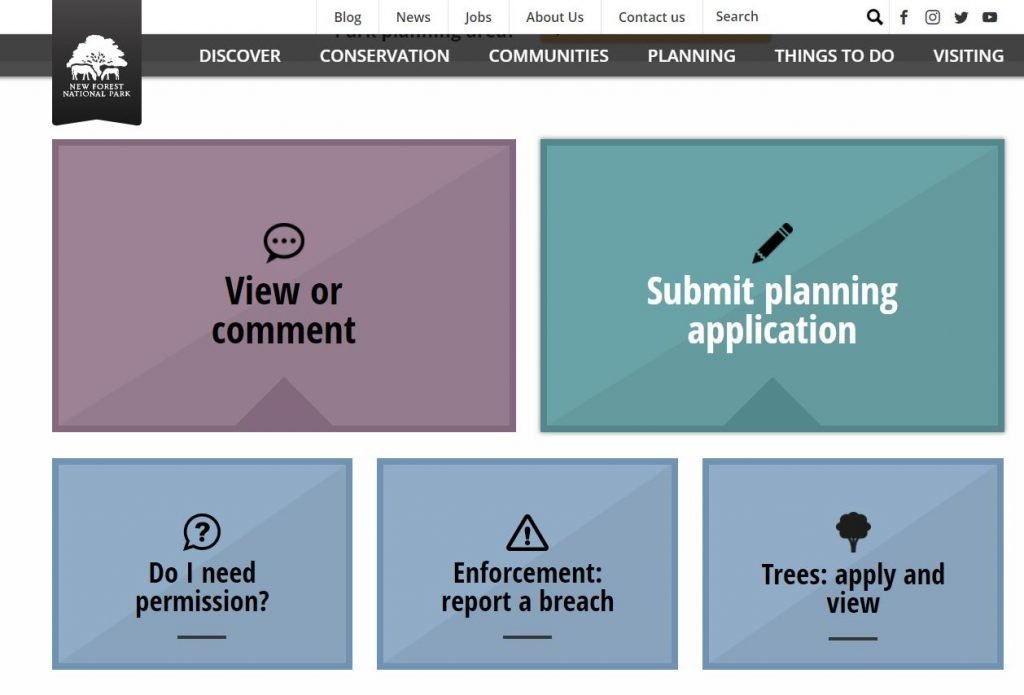 Publicity for your events
Do you or a group you are part of run events in the New Forest? Plant sales, charity events, art exhibitions – anything you're organising we can help publicise. Just head to our submit an event page and fill out the form, click submit and we will moderate it and set it live. The events calendar is well used so it's a great way for you to get more people along. The calendar is hub for all New Forest events so also very useful if you're looking to attend, rather than run, an event. Filter by date or your interests and it will show you events to suit you – browse the events calendar.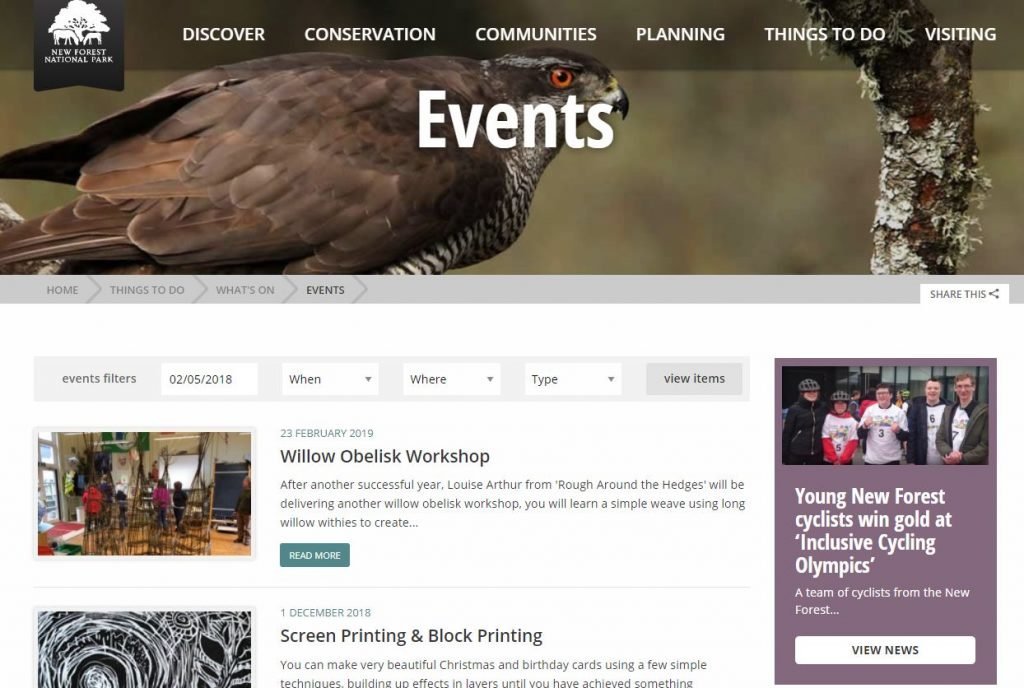 All about the Authority
Most of our website is about the New Forest as a place, rather than the Authority, because we know that's what interests you most as website users. Sometimes though, you'll need to find a meeting agenda, learn more about our Members or want to look at a strategy document.
For this, just go to the About Us section, in the white top bar along with other information about the Authority like our job vacancies or how to contact us.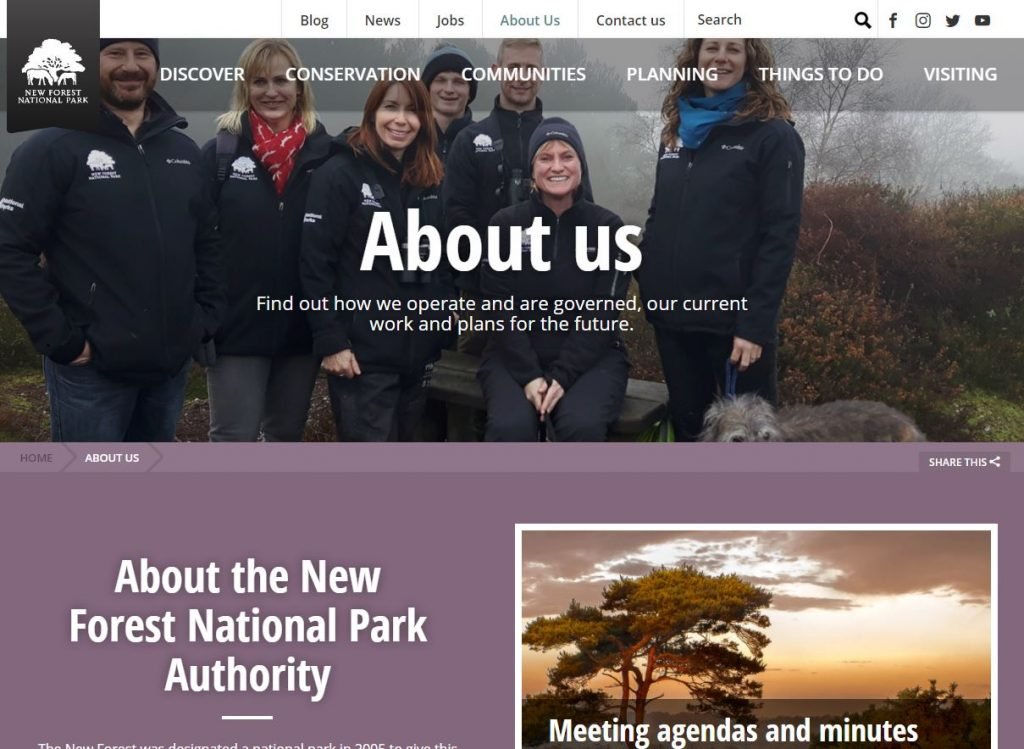 This is just a flavour of the content on the new site, have a click around and try it out for yourself.
And a reminder that you can send any feedback you have to communications@newforestnpa.gov.uk