Have you spotted one of these on the back of a lorry yet?
PUBLISHED ON: 21 FEBRUARY 2018

We continue our series of posts by project officers from the Heritage Lottery Fund Our Past, Our Future landscape partnership scheme with project officer Lyndsey Stride from the Commoners Defence Association (CDA). We will find out what the CDA has been doing with local businesses, visitors to the New Forest and local residents to increase their understanding of commoning and its role in the National Park.

The New Forest is a Shared Forest: a place where wildlife, domestic animals and people have coexisted for generations. There is a fine balance to be struck to ensure that the needs of all Forest dwellers and users are catered for. From the rare and special ground nesting birds, the commoners and their animals, to the millions who simply love to walk, ride and run in the Forest. The roads across the Forest are also shared spaces and commoners' animals have right of way on all Forest roads. As a result, we have an extraordinary network of roads which offer drivers, cyclists, walkers and the amazing experience of living in, working in and being a part of our shared Forest.

People travel the world to visit and film the great National Parks such as Kruger and Yosemite, to see free ranging herds of large herbivores, beautiful birds, incredible insect life and breath-taking trees and flowers. The highlight of many of these trips may be an intimate encounter with the wildlife or a chance to meet and speak with a local resident or wildlife ranger.

Is the New Forest any different? We have an ancient and unique farming system which works in harmony with the wildlife, a myriad of different habitats which offer the perfect conditions for some of Europe's rarest flora and fauna. On car journeys across the New Forest I have witnessed low flying tawny owls, new born New Forest pony foals taking their first steps, a merlin skimming the hedgerow, quick flying goshawks and a buzzard catching a basking snake on the grazed lawn. The heather in full bloom with its powerful honey scent always sends a tingle up my spine. I have seen exquisite dog roses cascading from roadside trees and observed the subtle changes of the leaves on the trees through the seasons, from the larch in spring to the great beeches in the autumn.

Commoners are not alone in loving the Forest, it touches people in a very special way, drawing them back again and again. Many businesses use images of the New Forest to advertise their wares and to identify themselves as special. 16  New Forest businesses have gone one step further and joined the New Forest Business Group. They have signed a charter which commits them to educating their staff about safe driving on the unfenced roads, as well as allowing them a little more time to cross the Forest. Slowing to 30mph from 40mph will add just 3 minutes to an average 7 mile journey. They have also agreed to ensure that any complaints about unsafe driving through the New Forest are followed up. In return the Shared Forest project is promoting the business group members through the press and social media, as well offering free lorry and car stickers, seasonal advice and updates.

This partnership working with businesses helps ensure the long-term future of the New Forest, so that we can pass this beautiful landscape on to the next generation to live in, work in and enjoy. With rights come responsibilities and respect. So thumbs up to the New Forest businesses which have embraced their responsibilities.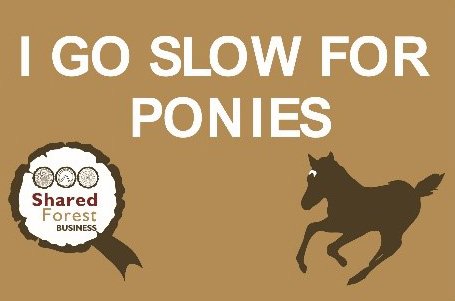 H H & D E Drew have joined the Shared Forest Business Group and they said: 'H H & D E Drew joined the scheme as we are a local based company, and would like to help spread the word about the Shared Forest project and its aims. We are based in Hampshire with depots in the Hampshire and Dorset area so can help get the message across by a little advertising on our vehicles, but also to help remind not only our drivers but also the local people that caution needs to be taken when driving on unfenced forest roads.'
If there are any more businesses which would like their commitment to the New Forest recognised they can visit the Shared Forest project at www.newforestcommoners.com and sign up.
More information about the Our Past, Our Future scheme and Shared Forest project can be found online at www.newforestnpa.gov.uk/landscapepartnership.