Open Top Forest Tour
PUBLISHED ON: 16 AUGUST 2016

Make the most of the late summer sun and jump aboard the open-top New Forest Tour before 11 September, offering a choice of three routes each showing the diversity of the beautiful New Forest. The red route reveals the wild northwest of the Forest, whilst the green route showcases the beautiful southeast and the blue route explores the coastal southwest. Each route takes approximately two hours.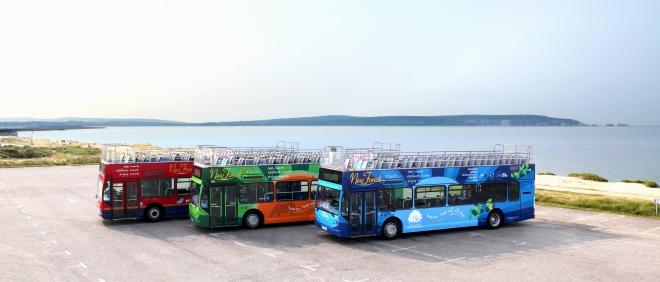 From the top deck of the buses, passengers can enjoy tree-top views of the National Park, with free-roaming animals, wide open heaths, picturesque villages, ancient Forest and great family attractions. There are special audio commentaries on each route, relaying the fascinating stories of the people and places of the Forest – with characters, sounds and music bringing the views to life.
A ticket allows passengers to hop-on and hop-off wherever they like, which is great if you want to visit an attraction or stop for a cream tea before hopping back onboard later. Passengers can also switch between routes on the same ticket. Walkers and cyclists are welcome to join the New Forest Tour as the buses can accommodate up to four bikes for free.
Passengers from towns and cities surrounding the Forest can easily link up with the Tour, through local bus, train and ferry links; some offering free bus and ferry travel on some routes as part of the Tour ticket offer.
For full details on all the Tour has to offer, discounts at participating attractions, and to book online, visit www.thenewforesttour.info. You can also pick up a leaflet from local tourist information centres.