Connect to nature from your home
PUBLISHED ON: 1 APRIL 2020

It's comforting to know that, during these uncertain times, nature is still doing its wonderful thing. While most of us are on 'lockdown' to prevent the spread of Coronavirus, the New Forest's wildlife is carrying on, blissfully unaware of events.

We're all missing being out in the New Forest, but from our windows, in our gardens, or on a daily walk from our homes, we're being uplifted by more and more signs of spring.

A few butterflies, including peacocks and brimstones have been emerging in the glorious sunshine of late. Splashes of spring flowers such as primroses, winter hellebores, daffodils and cherry blossom are cheery heralds of warmer months ahead.

In the woodlands, before the trees are in full leaf, some areas will be carpeted with wood anemones, early flowering orchids, wild garlic (ramsons), lesser celandines and bluebells.

During April, frog and toad tadpoles swim free from their spawn, and the adults leave the ponds to live on the land until autumn. Young badgers venture out to play around sett entrances, and fox cubs will poke their heads above ground for the first time too.

Grass snakes, adders, lizards and slow-worms are still emerging from hibernation to bask in the sun. They are cold-blooded and need to warm up before they can function fully, so you're more likely to see them early in the day when they are still cold and slow-moving.

April is the busiest month for arrivals and departures in the Forest, as migrating birds from Africa and southern Europe flock into the UK to breed and the winter visitors fly away.

Ground-nesting birds are doubtless enjoying the quieter heaths as people refrain from non-essential travel. At this time of year, curlews, woodlarks and Dartford warblers choose a territory and build their nests; people who are able to walk to the Forest from their homes should stay on the main tracks to avoid disturbing them.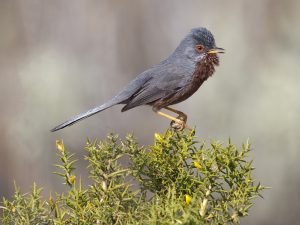 You may be lucky enough to hear the first cuckoo soon. Also returning are the swallow, house martin and, at the end of the month, swift. Overwintering visitors such as redwings, fieldfares, Brent geese and various waders are now leaving the New Forest.
Soon after sunset, the sharp-eyed among you might see a male woodcock performing its display flight, known as 'roding', above the treetops. These unusual birds are largely nocturnal – listen for their high-pitched cries alternating with a deep, frog-like croak.
We know it's hard to stay at home at the moment and not get out into nature as often as we'd like. The physical and mental health benefits of connecting to greenery and open spaces is well documented, and research has shown that even looking at photographs of nature can raise endorphins – our natural 'feel good' hormones.
So, thank you for staying home for now and helping to keep everyone safe. In the meantime, we'll keep you updated through our media channels about the wonderful wildlife and landscapes we're lucky enough to have right here on our doorstep.